For those of you who've been following our woodworking venture, we have (finally!!!) listed our first products on Etsy!!! We've had the store set up but hadn't stocked it with product.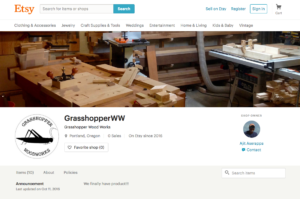 Getting stocked was more challenging than we had anticipated. It's not so much getting stocked since we had inventory, but it's all of the other details :  presentation, photography, pricing, packaging, policies, …. the list goes on. It's not that any one thing is difficult, it's that the details make a difference. Yeah, we could ship stuff in a paper bag with a bunch of stamps, but that seems déclassé. On the other hand, wrapping product in silk and having it delivered by carrier pigeon's isn't cost effective. Plus you have to train the pigeons. We nixed that idea.
And then, as it happens, in the middle of all this, life intervened. We had house guest, a multi-day class on how to finish wood from a nationally renowned … finisher, and some of our equipment needed to be repaired, and … it was a long slog to get to the finish. Except that it isn't the end, it's the beginning on a very long haul. We will be quite happy when we have some robotic assistants built. But experiencing the pain and pinch points of manufacturing a product and getting it to market is a prerequisite.
But yes, we have product — cutting boards specifically. We think they look quite nice and that people will enjoy using them. We've added little touches based on our experience — the shape of the bottom, for example that allow one's finger to slip under the board to pick it up, or seasoning the boards in a trough of warmed mineral oil to facilitate absorption. There a number of other details that we hope people will recognize, but that requires actually shipping product.
Following are pictures of our first 10 cutting boards. Visit our store, like it, and follow the adventure!