November was a crazy month and we have just about recovered from it. The month started with equipment fails and repairs, followed by crazy product building, and ended with us having a booth at the Portland Christmas Bazar (the largest of it kind in the US) and getting product into a local store in a hipster neighborhood (Forage Collective on Mississippi Ave). It was a great month, but hectic.
The Christmas bazaar was grueling. We signed up a couple of weeks before it started at the suggestion of a friend of ours. We hadn't researched the event in depth. It seemed like a good idea. We took the shot. It was after the registration deadline anyway. What was the likelihood of getting in?
Both of us had been at conventions in our corporate careers. No big deal. NOT. We missed the whole team of people whose job it was to set up, decorate, and tear down the booth, provide security, and made sure everything ran smoothly. When our application was accepted, … we had to scramble. We had to figure out the booth details, signage, layout, order processing, staffing, food, water,  … and that minor technical detail, products and quantities.
Since this was a Christmas bazaar, with about 30,000 potential customers and no ideas as to how much of what would sell, we had to scramble build stuff to stock our booth. There were a couple of long weeks.   Needless to say, we were totally winging it when showed up at our booth on Black Friday with most of our inventory — cutting boards and some home decorations.  Fortunately, we had very nice neighbors who'd been at the show many times before who helped us get organized.  They also turned into an awesome cheering squad.
The short version is we learned a lot from our experience. Net: we will not be doing THAT again. The response to our products was interesting.  Generally, there were two sets of people. The first thought what we had was pretty. They were looking for "deals". They were curious about how we created the colors in the wood. They probably voted for Trump.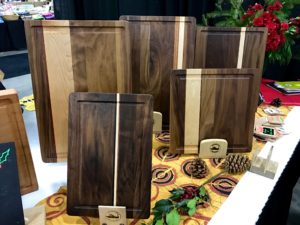 The second set of people were buyers, generally 35+ who knew what they were looking for. Unfortunately for us, there weren't many of them at the bazar.  The question in their minds was typically which item or what size.  If they picked up a cutting board or box, they generally made a purchase.  They like the construction details, they loved the display/drying stand for the cutting boards, and the way things felt in their hands.
What we learned from the bazaar was we should follow our instinct and make well designed, attractive, durable products, at  a  good value. We don't want or need to compete on price. We also learned getting product into people's hands (literally) is key.  Besides our Etsy store,  our products are now carried at a little boutique in the hip Mississippi neighborhood.
We have a bunch of new stuff we will be posting on Etsy as soon as we can take some decent pictures. Following are pictures from our  November whirlwind.